Competitions 2017-2018
Wonderful Wake Up Shake Up!
Right at the end of the last academic year, Christabel, Seyi, Megan, Sophie and Cindy, all now in Year 6, went to Carr Manor to compete in the annual Wake Up Shake Up competition. These girls are always dancing and earlier in the year had created a wonderful dance to Runaway Baby by Bruno Mars.
The whole school had joined in with them on more than one occasion and they adapted the dance slightly for the competition. On the day they did brilliantly and were voted in second place! Mrs Gillies was so proud of them and said they were unlucky not to be first. Well done girls!!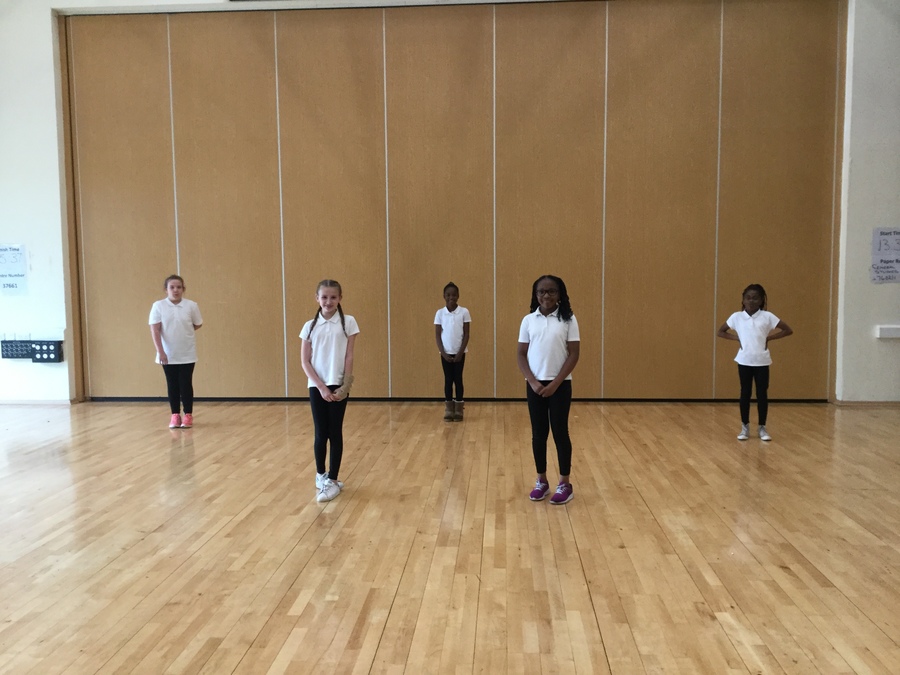 Awesome Athletics!
What a start to this academic year! Twelve Year 5/6 pupils went to the Coop Academy to compete against Shakespeare, Richmond Hill and St Augustine's. From the very start it was obvious that the team were on fire - winning the first few races. Everyone competed in at least one running event and one field event and we ended up as comfortable winners! Well done to all! We are through to the next round and are very excited about it. Hope you enjoy these fabulous photos taken by Nick. I've kept in some of the blurred ones to show you how fast they were running!
Lethal Lee!
Football is obviously a team game, first and foremost, but I think captain Lee Morrison needs a special mention for his hat-trick against Richmond Hill in the recent tournament. The rest of the squad was Kwame, Kaiden, Jeremy, Ahmad-Sohail, Eyobel, Joshua and Quincy. We also played Shakespeare, Wykebeck and St Augustine's, and although Wykebeck were worthy winners, it was a very promising start to our football year. Well done lads!
Great football in the cold!
The day before 'the Beast from the East' really hit us, snow was in the air on a freezing evening playing football against St Augustine's. Our opponents scored two early goals which might have made some teams give up a little, but our team rallied and showed a big improvement, particularly in the second half. The final score was 2-0, but we had our chances and if it wasn't for the first few minutes, we might well have managed a draw at least. Joshua Tsiga was our man of the match, and, over the last two years he is probably our most improved player. A strong and determined performance in defence!
First Time Out !
The Year 5 played Grimes Dyke in the Leeds Under 10 Cup . The team played very well and were accredit to the school losing 32 -16. Most of them had not much experience but the team gave a good account of themselves. Osahon Ibie-Agho, Logan Firth, Kaiden Banda and Daniel Lunga all scored tries. Special mention to Alfie McCormick and Osahon(in his first game) who played really well and never stopped trying.
Sunny Rugby !!!
On Thursday 19th April we played in the bright sunshine at Rothwell St Mary's in the Under 11 Leeds Rugby Cup competition. We only had one year 6 and the rest year 5. The team played very well and were a credit to the school. We lost 24 -12. The team never gave up and showed great sportsmanship all the way through. Special mention to Jeremy who scored 3 tries , Amira for her fantastic strong running and Quincy for his huge effort in attack and defence.
Culley Sevens Qualifiers
On Wednesday 6th June the rugby team played in the Culley Sevens rugby tournament qualifiers. They were only Year 5 pupils and were playing against Year 6 teams. They did amazing and never stopped trying. They were a real credit to the school. Quincy was the Man of the Match who scored a number of times. Special mention to Coleen and Mason who made very successful debuts. The team did draw one game losing the others but still qualified.
11 goal thriller!
Just before half term the football team played an amazing game against Austhorpe Primary School. We ended up 6-5 winners! Lee Morrison was outstanding in the first half, but Kwame Osei was our man of the match. He put in a brilliant energetic performance that even won him praise from the Austhorpe parents! Jeremy deserves a mention too, with a strong performance, but, of course, it's all about the whole team, so a big well done to all.
Fun in the Scorching Sun
The rugby team made up of just Year 5 children played in the Culley Sevens. They were up against Year 6 children but performed magnificently winning one of their games. They were a real credit to the school.