Competitions 2018/19
The Autumn term saw some fantastic competitions! Our first whole school competition was a skipping challenge - how many could each child do in 30 seconds? As usual we had two champions from each class, from Nursery through to Year 6. Our second challenge was a penalty shoot out. Our staff v pupils shoot out to start it off ended in a draw! This photo shows all the Year 3 children who made it through into the second round of their shoot out.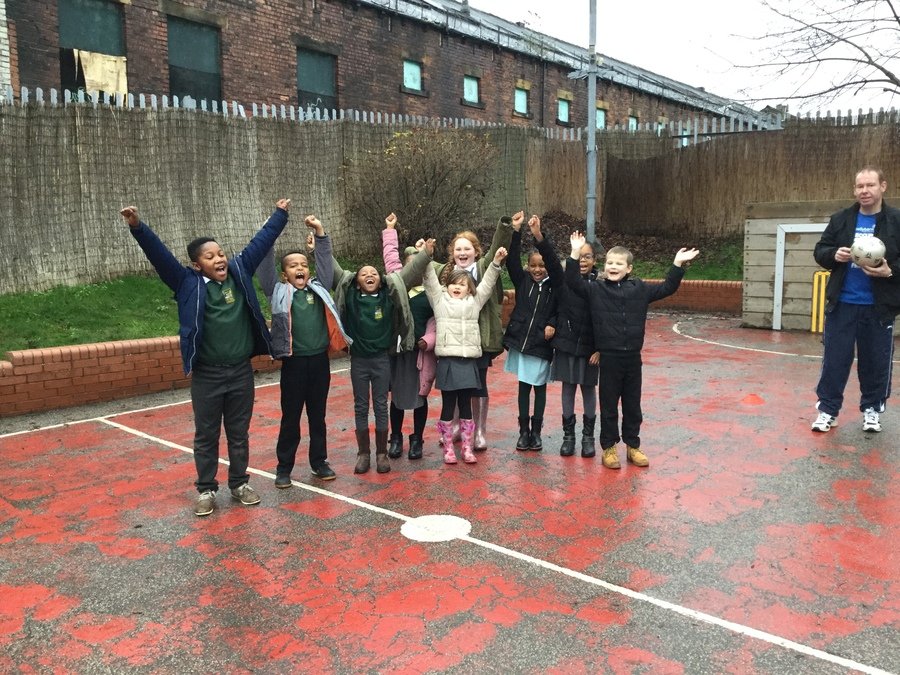 On top of this, 18 of our older children represented the school in the annual indoor athletics tournament. As usual they did the school proud, but, facing some very strong opposition were unable to progress into the next round.
The football team has had a great start to the year, notably in the Leeds United Road to Wembley tournament. In their group they won an amazing 5 out of 6 games to qualify for the semi- final. The skill and determination on show were great to see and some of the goals were fantastic. Unfortunately, they lost a very close semi-final 1-0 to St Augustine's. A huge well done to Amira, Angie, Kwame, Quincy, Timmy, Osahon and the two Yuels! Here is a photo of them at the end.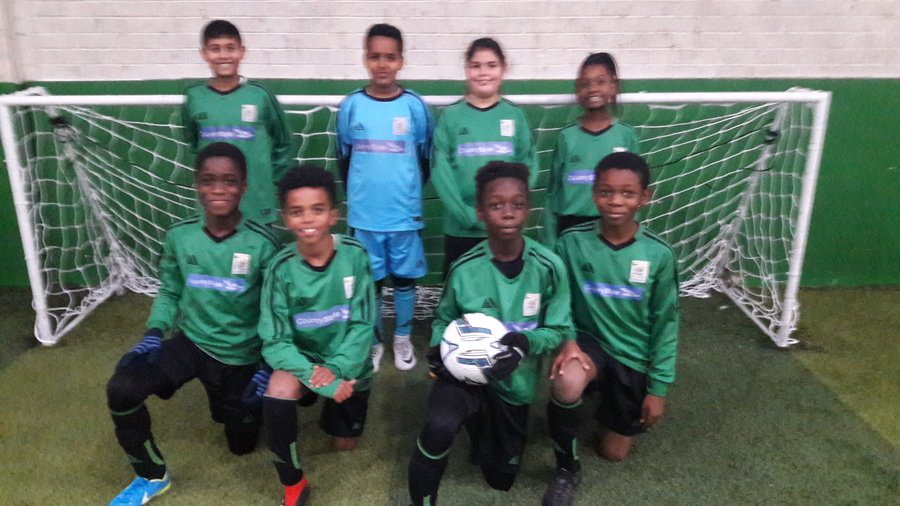 Burton Trophy
The Year 5 and Year 4 Rugby team played on Monday 11th March in the Burton Trophy. They were playing against Roundhay and did brilliantly winning 28 -16. Osahon scored 6 tries and there was some great tackling from Thomas, Joel and Ryan. The whole team were a credit to the school and played amazingly well.
Football Match v Austhorpe
On the same day the school football team played against Austhorpe Primary. We won 4-0, but it was a much closer game than the score suggests. There was a high level of skill and commitment from both teams. Kaiden scored an amazing volley, but it was Quincy who was named man of the match.
Dance Challenge:
In Spring One we had an amazing class dance competition. Every child took part in their class dance and the school hall was bouncing with excitement. All the adults had a vote ( not for their own class though!) and Year 5 were crowned dance champions!
Sprinting Challenge:
The Spring Two challenge was individual sprinting, inspired by Usain Bolt! Here are some of the children taking part and the Y3 class champions Westley and Jael. Well done!
Year 3 Dodgeball Tournament
On March 18th Mrs Lancaster took 6 boys to a dodgeball tournament in Rothwell organised by Ace Club. The lads did brilliantly and Mrs Lancaster was delighted with both their skills and their sporting attitude. A big well done to Kavan, Riley, Ephraim, David, Nahom and Westley.
More Dodgeball!
On April 17th it was the turn of Years 5/6 to play in a dodgeball tournament. They competed against four other schools at Shakespeare Primary and their energy and enthusiasm was great to see. The lads didn't quite do enough to get to the final, but Cyrus got a lovely medal for being our player of the tournament. Well done to Cyrus, Zuriel, Layton, Daniel, Logan, David and Mckenzie!
Year 6 Watson Cup.
The Year 6 rugby team played on Wednesday the 1st May. The team was Year 6 and Year 5 children. The game was fantastic with All Saints' losing to Grime Dyke 46 -34. . It was a fantastic team performance by All Saints' and they never gave up even when they went 18 0 down. They showed true sportsmanship and put in a fantastic effort. Every team member did something they could be proud of.
Special mention to the player of the match Amira whose defence was awesome. Also mentions to Quincy and Osahon for their fantastic tries and to Mason for his defence and the goal kicking with special mention to Logan.
Year 5 Burton cup
The Year 4/ 5 rugby team played in the semi-final against Woodlesford. They gave a really good account of themselves and never stopped trying before eventually losing . Special mention to Osahon for his 5 tries, Maisie for her play the balls and Jak for his performance at acting half back.
Two football tournaments
On June 2Oth the football team did brilliantly to win the Junior Leeds African Cup of Nations held at Richmond Hill. After winning their group quite comfortably, they beat Richmond Hill in the semi-final and Blenheim Primary in the final. It was an exciting afternoon and a very proud moment when Kwame lifted the lovely trophy. Osahon got a separate trophy for being the top scorer. A massive well done to those two, and to Timmy, Yuel (in Y6) Quincy, Kaiden, Hiyab and Yuel ( in Y5)
On July 1st a completely different 11 went to represent the school at a tournament at Gledhow Primary: Marvellous, Cyrus, Alfie, Amira, Angie, Louis, Layton, Logan, Zuriel, Callum and Ammanuel. Again they won their group, but this time they suffered the agony of losing a dramatic penalty shoot out after drawing in the semi-final! Angie was our player of the tournament. Another great afternoon of football where the team did us proud. Well done to all!
Culley Sevens Wednesday 3rd July
Amira, Osahon, Quincy, Mason Vian, Hiyab, Kwame and Keegan from year 5 and year 6 represented the school at the Leeds Culley Rugby League sevens. They were in the cup competition which was the top 4 teams in Leeds. They were a real credit to the school with fantastic enthusiasm and amazing sportsmanship commented on by other teams. They won their first match and narrowly lost their other 2 games.